Opterflow is a CRM designed to help smart companies overcome their challenges in lead generation, lead qualification, sales pipeline management, automated follow-up, customer engagement, and reporting and analytics.
With Opterflow, you can capture more leads, prioritize promising leads, manage your sales pipeline, set up automated follow-ups, communicate with customers on their preferred channels, and track your team's performance.
Marketing solutions to effortlessly capture leads, manage customer relationships, and run successful inbound campaigns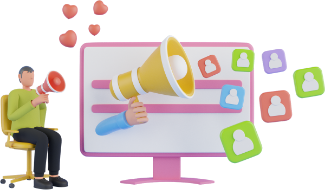 Stay connected with prospects on their preferred channels such as email, SMS, WhatsApp, Facebook, or Instagram. Simplify communication from a single dashboard.
Set up automated follow-up campaigns on your leads and stay in touch with them, so they don't slip to your competitors.
Send traffic from sites like Facebook, Google, YouTube, Instagram, or TikTok… and bring them to your lead generation funnel so you can easily capture their contact details, turn them into leads as they enter your sales pipeline automatically!
Turn Your website into a Lead-Generating machine
Your website can do more than just display information about your business. You can transform it into a lead-generating machine with a website chat system that lets prospects connect with your sales team and an online booking system that you're your web visitors book an appointment with you.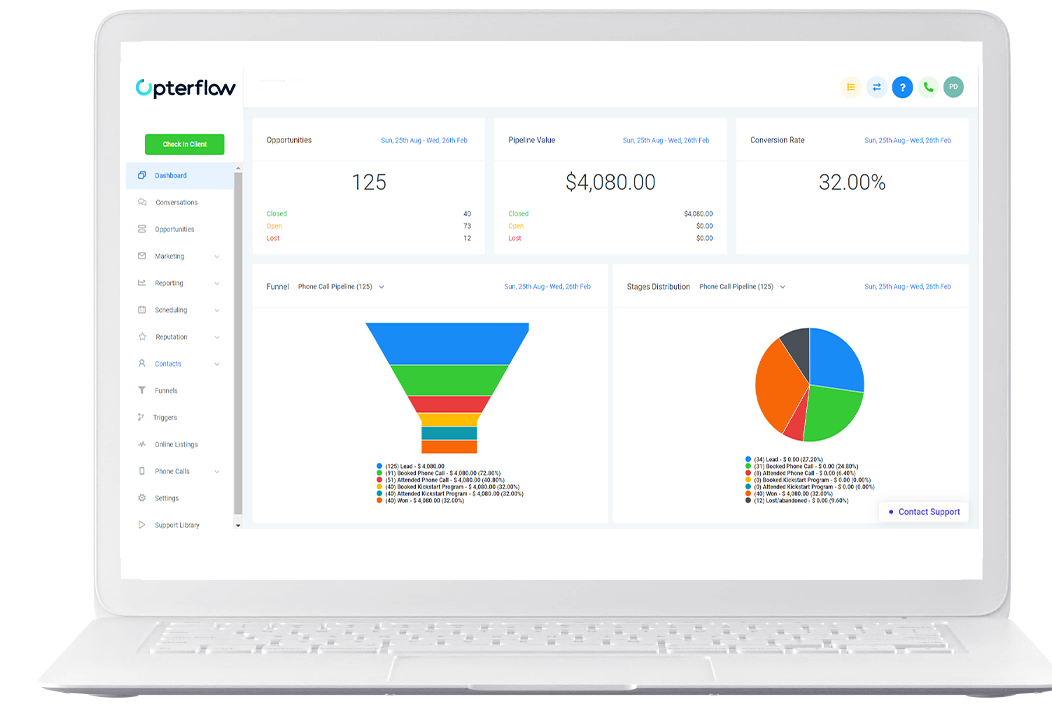 Missing deals due to forgotten follow-ups?
According to a recent study,  sales reps only follow up with prospects two times before giving up.This means that many prospects are left without enough information or support to make a decision. This can result in missed opportunities and lost revenue for your business.
Automate your sales follow ups!
Manually following up with prospects is time-consuming and frustrating, and it's easy to slip up and forget to reach out. But the real money is in the follow-up, and it's crucial to keep your prospects engaged to close more deals. It's the difference between the 1,929,999,999 failing businesses and the.000000002% that succeed!
Stay connected with prospects on the right channel that works for them , whether it's Email, SMS,Whatsapp Facebook, or Instagram. Opterflow makes it simple to create a unified inbox to easily communicate with prospects on multiple channels from one dashboard.
Stay in touch with your leads and stay connected with them by setting up automated lead follow-up campaigns. You can do this on multiple channels—email, SMS, even social media—to make sure your messages don't get lost in the dark.
Don't let leads slip through the cracks
With spreadsheets, it's hard to keep on top of all your customer relationships and the whole sales process. 
Thankfully, with Opterflow, you can get a detailed view of your accounts, organize your sales pipeline, and with every interaction tracked automatically, you'll save time and never have to guess where a relationship left off.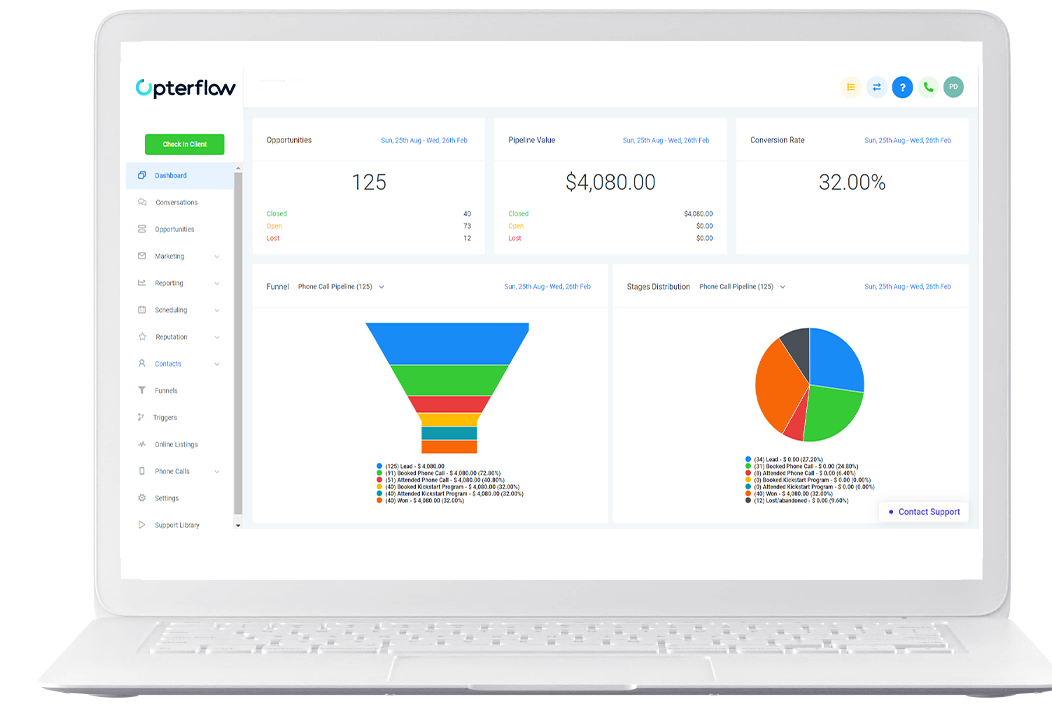 Visualize Your Revenue Potential
Stay connected with them by setting up automated lead follow-up campaigns.
You can do this on multiple channels—email, SMS, even social media—to make sure your messages don't get lost in the dark.
93% of consumers now look at reviews before using a business or making a buying decision. Opterflow lets you easily collect positive reviews, so you can let your customers sell your products/services for you. What's more, Opterflow also allows you to collect feedback from customers to increase customers loyalty and peer-to-peer recommendation.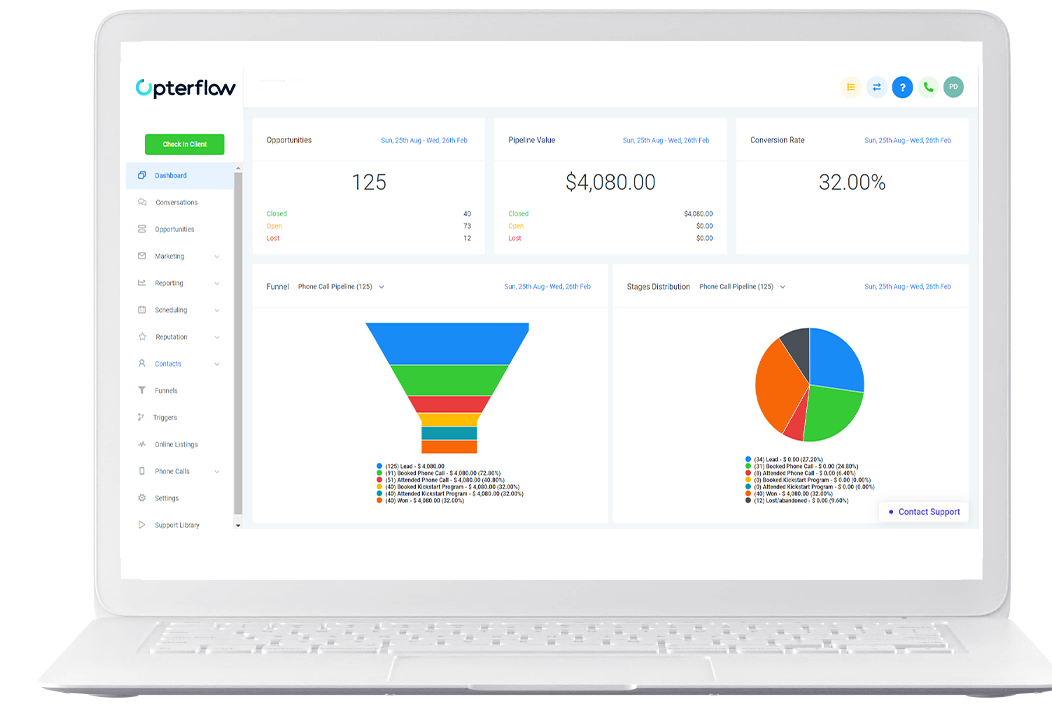 Automate repetitive sales tasks
Opterflow saves you hours every day by allowing you to automate repetitive tasks like creating and sending invoices to clients. Just set it up once, and you'll never have to do this repetitive task ever again.
Give your prospects the option to have a meeting when it's convenient. Just send them a scheduling link that syncs with your calendar. This will cut out the time-consuming back and forth of meeting scheduling.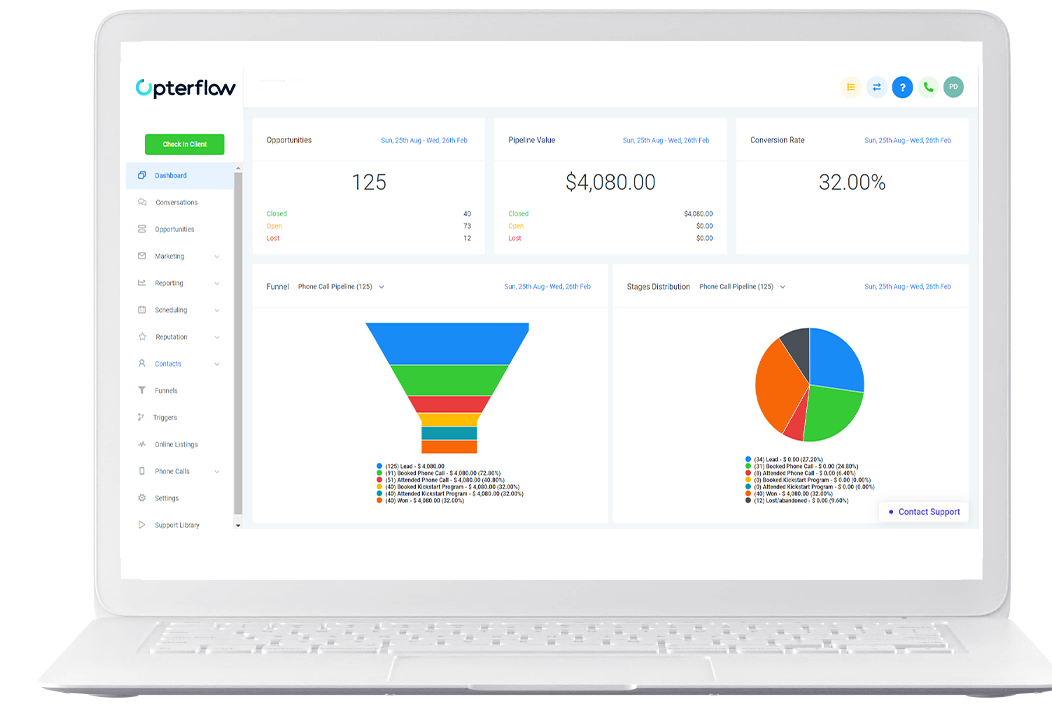 Personalized marketing messages
Send exactly what your contacts want
Craft email newsletters, sms blast, social media posts, campaigns, and promotions that connect with your customers. Customize your communication to offer exactly what they are looking for.
Opterflow Makes Generating Leads &
Following Up Prospects Easy For Everyone!
Grow your business faster without hiring more people to help you with sales and marketing. Opterflow allows you to achieve faster growth without lowering your profit margin.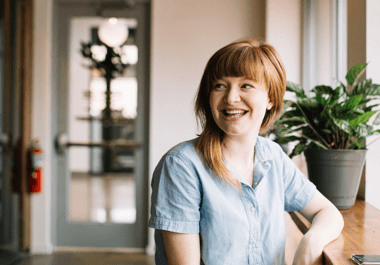 Feed your sales team with daily leads generated from multiple channels. Once you get started with Opterflow, you'll have a busy salesroom with reps closing new deals.
Every inbound lead is worth gold. With Opterflow, you can set up multi-channel follow-up campaigns and convert more website visitors into paying customers/clients.
The Hottest Tool For Flooding Your Businesses With New Customers
Look, having the ability to immediately follow up with ALL your potential customers and stay in touch with them until they convert can take your business from 'eh, doing okay' to 'holy wow' in no time flat. Period. End of story.
But we know you don't have the time or resources to do that. The whole process is time-consuming and could be overwhelming.
You don't have the time to always be there to immediately follow up unconverted prospects. You have so many other things in your day-to-day operations. And following up all your leads will take so much time and energy.But when you have a tool that does almost all the heavy lifting for you, things will change for the better.
You'll experience complete calm knowing you'll stop losing potential customers and enjoy faster growth with more sales-ready leads our software will generate for you.